Training Schedule
Please note that the schedule will change on a weekly basis.

No Training Scheduled
No Club Training Scheduled.

Tuesday Track
Track Runs
Please keep an eye on the ATC News WhatsApp group as plans may change due to activities around the stadium. 
Location
Track sessions will be on the Green Point Athletics Track (GPAS), unless event are taking place there.  In that case, track will be at the Green Point Cricket Club (GPCC) (accross the road).
The ATC Office and shop in the container at GPCC will also be open during track times.  (While the track session is in progress we will be at GPAS)
Special Covid-19 Procedures:
Please take careful note of the pre-requisites listed below and be sure to book your session between Thursdays and Monday mornings 10 AM.
You must be a club member of ATC Running for our coached sessions or of any affiliated running club to use the facility on your own.
You must have a 2020 WPA / ASA Running license.  In accordance with special Covid-19 regulations, Track access is being managed by WPA and all users must be licensed.  Your license can be through ATC Running or any affiliated running club.
For the ATC coached sessions, you also need to pay the track levy (R80 per year).
For individual access during the day, there may be a charge levied by GPAS – this is between the runner and GPAS directly.
You have to create an ID Card and this must be presented to gain access and must be with you for the duration of your session.
You need to complete and sign the WPA Indemnity Waiver.  You need to present this when accessing the track and must be with you for the duration of your session. 
All sessions, coached and individual, must be pre-booked.  Bookings will open every Thursday, for the following week.  Bookings will close on Mondays at 10:00 AM.  We will then send the register to WPA on Monday afternoons.  Runners will receive confirmation of their booking on Monday evenings, with further instructions on the procedure to follow for sign-in and the session.
When you arrive at the track, please don't crown the sign-in desk.  Wauit your turn, scan in, have your temperature taken, and proceed to the guard at the gate.  The guard will check yoru name on the register and will ce#heck your ID card and indemnity waiver.
Track Access Arrangement:
You have to enter the track from the delivery gate at P4.  Please show your ATC Barcode Tag to the security guard in the booth, located at the gate, and proceed to scan in on our sign-in system, which will be located just inside the track grounds.  You are welcome to park in Parking Area P4, which is to your right as you approach the Stadium in Vlei Road, whilst travelling towards Cape Town Stadium, before you get to the Athletics Track.  Please view the layout image further down n this email.  This will offer the closest parking to the entrance.
Access to the toilets will be provided from inside the track.
You must to bring your barcode tag along as you will not be able to access the rack grounds without it.
TRACK LEVY:
We are now paying for the flood lights used during our sessions at the Green Point Athletics Stadium.  We therefore had to introduce a R50 Training Levy for all track users.  This is the same levy that swimmers are paying for the canal swim, so if you have already paid that this season, you don't have to pay again now.
The levy of R50 is charged once per year and will increase to R80 from 1 August 2017.  Members who have recently paid the R50 or who pays before 31 July 2017 will not have to pay again until August 2018.  Members are requested to purchase the levy online or at the next training session.
Track Sessions
Sessions are be led by a qualified coach.  We meet at 05:50 and start warming up at 06:00.  After warm-up there is a plyometric and core strength session before we start with the actual speed work.  This will prevent you from starting strenuous speed work to quickly, which could lead to injuries.
Track Session - What's the point?   
(Extract from article by Dr John Cunniffe from the Galway Triathlon Club)
SPEED:  Results mainly from a combination of muscular strength and coordination.  Few people in our group can run a 60sec 400m.  However a 42min 10km only requires you to be able to run at 100s per 400m so you need a certain amount of speed (say to be able to run around 90sec/400m in a 12x(400m+90sec) session) but not as much as an 800m or a 1500m track athlete.  In general I would say that being able to run a 12x400m session with lap times of 90% of your target 10km pace should be a good foundation.
SPEED ENDURANCE:  The ability to maintain a given speed for an extended period.  You are interested in being able to maintain your chosen race pace for 25x400m with no rest (i.e. 10km) so speed endurance work involves moving to longer intervals (800m-1200m) with less rest ratio than for developing speed.  This allows you to push the pace slightly beyond target race pace (2-5sec/400m faster than target pace) and still have a recovery between reps.  You should be totally comfortable running the first few of these intervals at target pace.  e.g. if your target is to run 42mins for 10km then you would be aiming to run 1000m reps at approx 95-98sec/400m (3:57-4:05/1km) and take 2-3mins rest between reps.
Tuesday Track
Speed Work for Road & Trail Runners
ATC Running 073 308 3127
06:00
The Green Point Athletics Stadium, Vlei Road, Green Point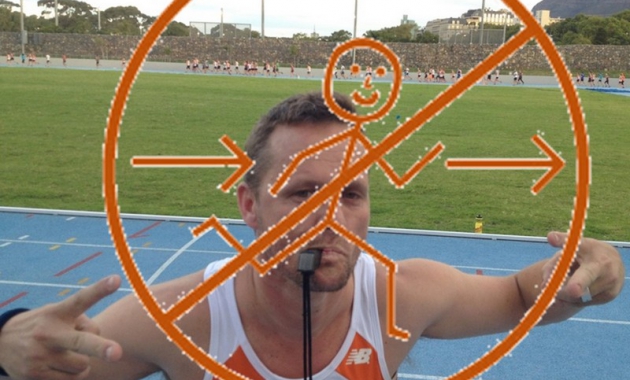 NO TRACK TRAINING
There will be no Wednesday afternoon track sessions during the festive season.
NO TRACK TRAINING
Track Cancelled due to COVID-19 Restrictions
ATC Running 073 308 3127
18:00
Green Point Athletics Stadium

Mid-Week Ride
Mid-Week Ride
WE ARE CURRENTLY NOT SCHEDULING GROUP RIDES DUE TO COVID-19.
Please WhatsApp us for more details.
We ride out towards Hout Bay and back or up the Glen.
Mid-Week Ride
Towards Hout Bay / Chappies & Back
ATC Cycling 073 308 3127
05:30
Point Virgin Active

ATC Canal Swim Fri
Please keep an eye on the ATC NEWS WhatsApp Group as plans may change due to weather or activities around this area.
During the COVID-19 Pandemic, the swim is run under strict rules and additional measures have been put in place to minimise the risk of spreading the virus.  Members have to pre-book to attend the swim.
The number of people in the area and pontoon has to be limited to a maximum of 8.  This means that swimmers have to pre-book a swim and must only enter the area at designated times.  All changing and preparation must be done at your vehicle, to be parked inside the Battery Park lot (it is free at the moment).  Swimmers will head down to the swim area wearing their wetsuits and face masks, carrying a swim cap, towel, car keys and ATC barcode tags only.  Nothing else can be left in the swim area while you swim.
You will receive an email with the details you provided, immediately after making your booking.  On the eve of the swim, we will send you another email with confirmed times and final instructions.
Please take note of the Covid-19 Symptoms Check List and Terms & Conditions on the booking form.  You will need to accept these when you make your booking and again when you tag in for the swim.
Only bookings from active ATC members will be accepted.  We cannot allow any guests during this time.  Please check your membership on our online shop at
www.atcmultisport.club
or WhatsApp ATC at 0733083127.  It is also vitally important that your contact details on our database are up to date.
Swim Start
We start the Canal Swim from the SUP deck at the recently completed Battery Park.  This is the recently opened Urban Park in the area where we originally started our swim from.  Please park in the new Battery Park garage, underneath the Urban Park.  The parking entrance is in the new small road behind the City Lodge.  There is NO PUBLIC Parking in the BATSA or Waterway House parking garages off Dock Road.
Directions from the City or N1:  When you enter the Waterfront via Dock Road from the intersection at the bottom of the M1, take the first left into Alfred Street (before Waterhouse building) and then turn right, just after the City Lodge.  Park in the under-cover garage and exit through the pedestrian / lift lobby. The swim start is to the left, in front of the Trail & Tar and SUP Cape Town shops.
Directions from the Waterfront or Green Point:  Exit the waterfront on Dock Road at the circle next to the Marina, then turn left into. Port Road, which becomes Alfred.  Then turn left just before the City Lodge.
Note that parking is R10 for up to 2 hours.
Please see below for location of the start and our swim.
https://www.google.com/maps/@-33.912452,18.4218683,19.71z
-----------------------------------------------------------
ATC has been granted permission to use the canals at the V&A Waterfront to do our open water swims.  The canals are CLEAN, SAFE and SHARK FREE!  The water is as cold as the open sea so please bring your wetsuits with. The canals wind from the CCTCC right though the residential area and to the One and Only Hotel, perfect for open water practice! The canal is at no point deeper than 3m and on average is about 1.5m deep.
We start at the new jetty near the Cape Town SUP shop and swim towards the One and Only Hotel.  There are stairs to exit the canal at regular intervals, so you can climb out when you have had enough.  It's roughly 1.6 Km from the Start, around the One & Only Island, and back.  For longer swims, you can do multiple laps around the Island (500m per lap).
Please do not swim in this canal at other times as we are only allowed to swim there by prior arrangement.
Swimmers are advised to park in the Battery Parking Garage, which is right next to the swim start.  This parking will cost around R10.  Cars parked illegally here, or elsewhere in the Waterfront, will be clamped.
In Summer the swim start is at 06:00 and nobody will be allowed to start swimming after 06:10.  We need to clear the area by 07:00.
In Winter the swim start is at 14:00 and nobody will be allowed to start swimming after 14:10.  We need to clear the area by 15:00.
What to bring along:
ATC Multisport or a brightly coloured swimming cap (ATC cap compulsory for V&A Canal swim)
Goggles
Wetsuit (optional, but recommended)
Costume / tri-suit for under your wetsuit
Towel and change of clothes – (warm clothes are recommended to warm up after sea / canal swim but these must be left in your car).
Sunscreen.
Your sign in name or barcode card.
Your cloth or other type of face mask.
ATC Canal Swim Fri
Open Water swim in the Waterfront Canals
ATC Swimming - 073 308 3127
06:00
V&A Canal - Battery Park

Weekend Long Ride
WE ARE CURRENTLY NOT SCHEDULING GROUP RIDES DUE TO COVID-19.
Please WhatsApp 0733083127 for more details.
Weekend Long Ride
80 Km Ride
ATC Cycling - 0733083127
05:30
Virgin Active Point

No Training Scheduled
No Club Training Scheduled.