17 Nov '14: ATC AWARDS '14 Invite
Published by ATC Multisport on Wed, 19 Nov 2014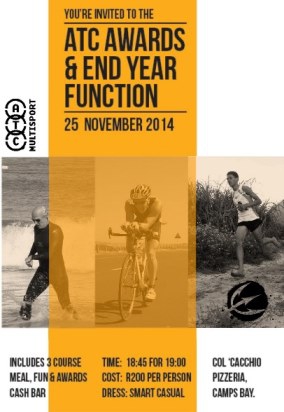 ATC Awards '14
ATC is pleased to invite you to our Annual Awards Ceremony and Year-End Function.  We have booked Col'Cacchio Pizzeria in Camps Bay for the event.  A three course meal will be served and there will be a cash bar for drinks.
ATC Awards:
We are calling for nominations of members for various
Performance
and
Service Awards
.  Please view the various categories on our
Awards '14 Page
and follow the links to Nominate a fellow member (our yourself) for an award.
Legends Challenge:
If you have done more than ten events between October 2013 and September 2014, you could be the next ATC Legend!  Please reply to this email so we can send you the form to claim your Legend Points!
We look forward to seeing you next Tuesday
ATC