22 Oct '17: RESULTS – Slanghoek
Published by ATC Multisport on Mon, 30 Oct 2017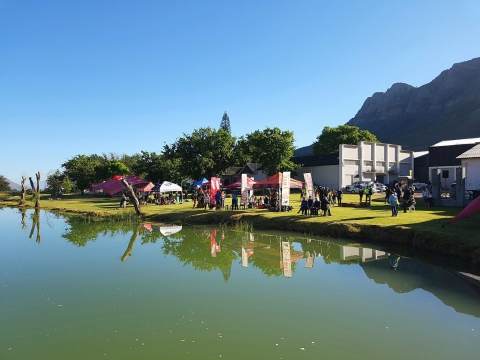 Results – Slanghoek MTB & Road Triathlons
The Slanghoek valley offered another breath-taking weekend on 21 and 22 October and the races didn't disappoint.  In the flagship
Standard Distance Road
event,
Dean Hopf
was 4
th
overall (2
nd
Subvet, 30-39),
Kobus Meyer
was the 3
rd
Vet (40-49) and
Wessel Van Der Merwe
the 2
nd
Grand Master (60-69).
Michelle Krebs was the 3rd lady home (2nd Senior, 20-29), Alice Oosthuizen the 3rd Subvet (30-39) and Tania Fourie the 2nd Vet (40-49).  Jeanine Ruffles won the Masters (50-59) Category with Celia Pienaar in Second.
In the Sprint Road event Henry Wolstenholme won the Masters category (4th overall), Christoff Van Heerden won the Subvet category (5th overall) and Colin Van Zyl won the Vets Category (6th overall).
Caylan Bromley won the Junior category (3rd lady), Lucy Gauntlet was the second Senior (4th Lady) and Uta Lehman the 2nd Subvet (6th Lady).
Vicky Van Der Merwe was the first lady in the Long Off-Road off-road event and Sandy Russell was the second Veteran.  Matthew Daneel was second overall under the men (1st Subvet), Douglas Burger won the Masters Category (9th overall) and Steven Mewissen was the 3rd Vet.
Dean Hopf won the Short Off- Road event, David Durham was the 2nd Subvet (5th overall) and Wouter Kriegler was the 3rd Subvet (9th overall).  Lucy Gauntlet was the second Senior (3rd Lady) and Leigh Rynhoud the 3rd Vet. William Marais was the 2nd Master.
All the ATC'ers results are below.
Slanghoek Road Triathlon – Standard – ATC's Results
| | | | | | | | | | | | | | | | | | | | | | |
| --- | --- | --- | --- | --- | --- | --- | --- | --- | --- | --- | --- | --- | --- | --- | --- | --- | --- | --- | --- | --- | --- |
| ATC # | Name and Surname | Event | Cat | Finish | O/All | Sex | TSA Age | AG | Swim | Rank | Bike | Rank | Run | Rank | T1 & T2 | Rank |   | Ironman | YOB | TSA | League |
|   |   | Category | Pos | Time | Pos | Pos | Group | Pos | 1.1 Km |   | 40 Km |   | 10 Km |   |   |   |   | TriClub |   | Number | Points |
| 1 | Dean Hopf | SVL | 2 | 02:09:13 | 4 | 4 | M30-34 | 2 | 00:21:50 | 8 | 01:03:38 | 3 | 00:43:45 | 4 | 99:99:99 | 9999 |   | Atlantic Triathlon Club (ATC) | 1986 | WPT_R/1104/18 | 774 |
| 2 | Alexander Krebs | SML | 7 | 02:21:39 | 10 | 10 | M25-29 | 3 | 00:23:13 | 14 | 01:07:28 | 10 | 00:50:58 | 29 | 99:99:99 | 9999 |   | No IMTC | 1992 | WPT/00155/18 | 639 |
| 3 | STeve Attwell | SVL | 4 | 02:21:40 | 11 | 11 | M40-44 | 1 | 00:25:31 | 30 | 01:07:32 | 11 | 00:48:37 | 14 | 99:99:99 | 9999 |   | Atlantic Triathlon Club (ATC) | 1978 | WPT/00105/18 | 724 |
| 4 | Rudi Oosthuizen | SVL | 5 | 02:22:00 | 13 | 13 | M40-44 | 2 | 00:24:38 | 20 | 01:11:49 | 23 | 00:45:33 | 7 | 99:99:99 | 9999 |   | Atlantic Triathlon Club (ATC) | 1978 | WPT/00021/18 | 722 |
| 5 | Travys Wilkins | SVL | 6 | 02:22:09 | 14 | 14 | M30-34 | 3 | 00:25:49 | 33 | 01:06:55 | 9 | 00:49:25 | 19 | 99:99:99 | 9999 |   | Atlantic Triathlon Club (ATC) | 1986 | WPT_R/1097/18 | 701 |
| 6 | Crispin Barrett | SVL | 9 | 02:24:55 | 19 | 19 | M40-44 | 3 | 00:25:16 | 29 | 01:09:03 | 18 | 00:50:36 | 27 | 99:99:99 | 9999 |   | Atlantic Triathlon Club (ATC) | 1978 | WPT/00166/18 | 706 |
| 7 | Andre Brand | SVL | 10 | 02:28:03 | 22 | 21 | M35-39 | 2 | 00:23:10 | 13 | 01:14:54 | 40 | 00:49:59 | 23 | 99:99:99 | 9999 |   | Atlantic Triathlon Club (ATC) | 1981 | WPT/00180/18 | 668 |
| 8 | Kobus Meyer | VML | 3 | 02:28:03 | 23 | 21 | M40-44 | 4 | 00:26:08 | 35 | 01:13:01 | 31 | 00:48:54 | 16 | 99:99:99 | 9999 |   | No IMTC | 1975 | WPT/00123/18 | 689 |
| 9 | Bruere Kloppers | SML | 10 | 02:29:33 | 24 | 23 | M25-29 | 9999 | 00:27:30 | 46 | 01:12:03 | 25 | 00:50:00 | 24 | 99:99:99 | 9999 |   | No IMTC | 1990 | NoTSA | 590 |
| 10 | Michelle Krebs | SWL | 2 | 02:31:38 | 31 | 3 | F20-24 | 1 | 00:24:42 | 22 | 01:15:14 | 44 | 00:51:42 | 34 | 99:99:99 | 9999 |   | Atlantic Triathlon Club (ATC) | 1994 | WPT/00181/18 | 634 |
| 11 | Marco De Vincenzo | VML | 5 | 02:32:54 | 32 | 29 | M40-44 | 6 | 00:27:04 | 43 | 01:13:41 | 35 | 00:52:09 | 39 | 99:99:99 | 9999 |   | No IMTC | 1976 | WPT_R/1086/18 | 662 |
| 12 | Deon Coetzee | VML | 6 | 02:34:27 | 36 | 31 | M40-44 | 7 | 00:22:41 | 9 | 01:20:10 | 86 | 00:51:36 | 31 | 99:99:99 | 9999 |   | Atlantic Triathlon Club (ATC) | 1975 | WPT/00179/18 | 654 |
| 13 | Linda Detering | SWL | 4 | 02:35:56 | 40 | 7 | F20-24 | 2 | 00:25:12 | 28 | 01:19:04 | 76 | 00:51:40 | 32 | 99:99:99 | 9999 |   | No IMTC | 1998 | WPT/00191/18 | 609 |
| 14 | Anthony Lopez | VML | 9 | 02:43:26 | 54 | 47 | M45-49 | 3 | 00:29:55 | 73 | 01:17:48 | 59 | 00:55:43 | 54 | 99:99:99 | 9999 |   | No IMTC | 1971 | WPT_R/1099/18 | 605 |
| 15 | Alice Oosthuizen | SXL | 3 | 02:44:00 | 57 | 8 | F30-34 | 1 | 00:30:20 | 77 | 01:19:41 | 83 | 00:53:59 | 46 | 99:99:99 | 9999 |   | Atlantic Triathlon Club (ATC) | 1986 | WPT/00108/18 | 687 |
| 16 | Gavin Cilliers | SVL | 21 | 02:47:39 | 63 | 53 | M30-34 | 4 | 00:32:19 | 116 | 01:20:30 | 89 | 00:54:50 | 51 | 99:99:99 | 9999 |   | Atlantic Triathlon Club (ATC) | 1986 | WPT_R/1085/18 | 557 |
| 17 | Peter Van Wyk | MML | 5 | 02:49:03 | 68 | 57 | M55-59 | 9999 | 00:32:30 | 122 | 01:15:10 | 41 | 01:01:23 | 97 | 99:99:99 | 9999 |   | No IMTC | 1962 | NoTSA | 586 |
| 18 | Anneri Harmse | SXL | 7 | 02:50:49 | 76 | 15 | F35-39 | 3 | 00:28:20 | 56 | 01:21:22 | 99 | 01:01:07 | 90 | 99:99:99 | 9999 |   | Atlantic Triathlon Club (ATC) | 1981 | WPT/00006/18 | 653 |
| 19 | Tania Fourie | VWL | 2 | 02:51:16 | 79 | 16 | F45-49 | 1 | 00:37:53 | 208 | 01:21:23 | 100 | 00:52:00 | 37 | 99:99:99 | 9999 |   | No IMTC | 1973 | WPT/00197/18 | 661 |
| 20 | John Van Onselen | MML | 8 | 02:51:51 | 83 | 66 | M60-64 | 1 | 00:29:34 | 69 | 01:16:23 | 49 | 01:05:54 | 131 | 99:99:99 | 9999 |   | No IMTC | 1958 | WPT/00159/18 | 722 |
| 21 | Kevin Mckinney | VML | 18 | 02:52:34 | 88 | 71 | M45-49 | 6 | 00:24:43 | 23 | 01:20:26 | 88 | 01:07:25 | 138 | 99:99:99 | 9999 |   | Atlantic Triathlon Club (ATC) | 1971 | WPT_R/1102/18 | 555 |
| 22 | Peter Hartmann | MML | 9 | 02:53:00 | 89 | 72 | M55-59 | 1 | 00:29:27 | 68 | 01:21:01 | 95 | 01:02:32 | 108 | 99:99:99 | 9999 |   | Atlantic Triathlon Club (ATC) | 1963 | WPT_R/1004/18 | 565 |
| 23 | Hans Sukel | MML | 10 | 02:54:33 | 93 | 76 | M55-59 | 9999 | 00:30:23 | 79 | 01:19:33 | 80 | 01:04:37 | 123 | 99:99:99 | 9999 |   | Atlantic Triathlon Club (ATC) | 1962 | NoTSA | 557 |
| 24 | Nicholas Walker | SML | 22 | 02:56:00 | 100 | 79 | M25-29 | 9999 | 00:23:43 | 17 | 01:20:16 | 87 | 01:12:01 | 175 | 99:99:99 | 9999 |   | No IMTC | 1991 | NoTSA | 430 |
| 25 | Kirsty Blackford | VWL | 4 | 02:56:03 | 102 | 22 | F50-54 | 1 | 01:54:18 | 252 | 99:99:99 | 9999 | 01:01:45 | 101 | 99:99:99 | 9999 |   | Atlantic Triathlon Club (ATC) | 1968 | WPT_R/1043/17 | 647 |
| 26 | Sally Misplon | SXL | 10 | 02:56:47 | 104 | 24 | F30-34 | 9999 | 00:29:07 | 65 | 01:24:54 | 126 | 01:02:46 | 111 | 99:99:99 | 9999 |   | Atlantic Triathlon Club (ATC) | 1987 | WPT/00286/17 | 624 |
| 27 | Dave Chapman | VML | 20 | 02:57:23 | 106 | 82 | M45-49 | 7 | 00:26:00 | 34 | 01:18:24 | 66 | 01:12:59 | 181 | 99:99:99 | 9999 |   | No IMTC | 1971 | WPT_R/1018/18 | 528 |
| 28 | Wasfie Adams | VML | 22 | 02:59:57 | 113 | 87 | M45-49 | 9999 | 00:37:02 | 202 | 01:25:41 | 131 | 00:57:14 | 62 | 99:99:99 | 9999 |   | No IMTC | 1973 | NoTSA | 514 |
| 29 | Leigh Charlton | SXL | 12 | 03:00:07 | 114 | 27 | F30-34 | 3 | 00:28:39 | 60 | 01:25:41 | 131 | 01:05:47 | 130 | 99:99:99 | 9999 |   | Atlantic Triathlon Club (ATC) | 1985 | WPT/00000/18 | 607 |
| 30 | Carmen Gers | SXL | 14 | 03:02:25 | 121 | 31 | F30-34 | 9999 | 00:32:53 | 129 | 01:25:54 | 135 | 01:03:38 | 116 | 99:99:99 | 9999 |   | No IMTC | 1986 | NoTSA | 596 |
| 31 | Lesyl Potgieter | VWL | 8 | 03:02:55 | 122 | 32 | F40-44 | 4 | 00:36:38 | 193 | 01:24:56 | 127 | 01:01:21 | 96 | 99:99:99 | 9999 |   | No IMTC | 1974 | WPT/00019/18 | 595 |
| 32 | Ebrahim Gasnola | SVL | 33 | 03:06:17 | 133 | 94 | M40-44 | 9999 | 00:35:42 | 184 | 01:27:58 | 159 | 01:02:37 | 109 | 99:99:99 | 9999 |   | No IMTC | 1978 | NoTSA | 479 |
| 33 | Jeremy De Tolly | VML | 27 | 03:07:54 | 138 | 42 | M45-49 | 8 | 00:34:54 | 166 | 01:25:16 | 129 | 01:07:44 | 141 | 99:99:99 | 9999 |   | Atlantic Triathlon Club (ATC) | 1971 | WPT/00157/18 | 471 |
| 34 | Auren Freitas Dos Santos | SML | 25 | 03:08:00 | 139 | 97 | M25-29 | 9999 | 00:31:38 | 96 | 01:27:11 | 152 | 01:09:11 | 155 | 99:99:99 | 9999 |   | No IMTC | 1989 | NoTSA | 356 |
| 35 | Simon Van Der Linden | MML | 14 | 03:08:28 | 141 | 98 | M50-54 | 2 | 00:34:15 | 152 | 01:22:14 | 106 | 01:11:59 | 174 | 99:99:99 | 9999 |   | Atlantic Triathlon Club (ATC) | 1965 | WPT_R/1103/17 | 481 |
| 36 | Pieter Brits | SVL | 37 | 03:09:31 | 145 | 100 | M30-34 | 9999 | 00:36:05 | 186 | 01:28:05 | 162 | 01:05:21 | 127 | 99:99:99 | 9999 |   | No IMTC | 1985 | NoTSA | 434 |
| 37 | Jeannine Ruffels | MWL | 1 | 03:10:07 | 146 | 46 | F50-54 | 2 | 00:36:50 | 196 | 01:29:27 | 174 | 01:03:50 | 118 | 99:99:99 | 9999 |   | No IMTC | 1967 | WPT_R/1082/18 | 578 |
| 38 | Jessica Laubscher | SWL | 17 | 03:10:49 | 150 | 50 | F25-29 | 9999 | 00:33:39 | 141 | 01:25:03 | 128 | 01:12:07 | 178 | 99:99:99 | 9999 |   | No IMTC | 1990 | NoTSA | 468 |
| 39 | Celia Pienaar | MWL | 2 | 03:11:24 | 151 | 51 | F55-59 | 1 | 00:32:41 | 124 | 01:26:50 | 146 | 01:11:53 | 173 | 99:99:99 | 9999 |   | No IMTC | 1960 | WPT/00195/18 | 580 |
| 40 | Andro Theart | VML | 33 | 03:12:15 | 154 | 52 | M45-49 | 10 | 00:36:11 | 189 | 01:26:03 | 137 | 01:10:01 | 157 | 99:99:99 | 9999 |   | Atlantic Triathlon Club (ATC) | 1973 | WPT_R/1063/18 | 447 |
| 41 | Mario Penso | SML | 26 | 03:13:02 | 156 | 103 | M25-29 | 4 | 00:34:57 | 168 | 01:29:18 | 173 | 01:08:47 | 150 | 99:99:99 | 9999 |   | Atlantic Triathlon Club (ATC) | 1989 | WPT/00014/18 | 326 |
| 42 | Marco Barbieri | SVL | 40 | 03:13:31 | 157 | 104 | M35-39 | 4 | 00:31:48 | 101 | 01:44:10 | 236 | 00:57:33 | 65 | 99:99:99 | 9999 |   | Atlantic Triathlon Club (ATC) | 1981 | WPT_R/1043/18 | 412 |
| 43 | Gerhardt Van Niekerk | MML | 16 | 03:16:20 | 166 | 107 | M50-54 | 3 | 00:34:51 | 165 | 01:23:11 | 110 | 01:18:18 | 199 | 99:99:99 | 9999 |   | No IMTC | 2017 | WPT/00227/17 | 439 |
| 44 | Gail Moriarty | MWL | 4 | 03:16:39 | 168 | 60 | F50-54 | 9999 | 00:35:10 | 174 | 01:27:23 | 154 | 01:14:06 | 184 | 99:99:99 | 9999 |   | No IMTC | 1964 | NoTSA | 547 |
| 45 | Jonty Low | SVL | 56 | 03:16:56 | 170 | 109 | M35-39 | 5 | 03:16:56 | 253 | 99:99:99 | 9999 | 99:99:99 | 9999 | 99:99:99 | 9999 |   | Atlantic Triathlon Club (ATC) | 1983 | WPT/00168/18 | 393 |
| 46 | Gert Wilkins | MML | 17 | 03:20:16 | 183 | 112 | M55-59 | 2 | 00:39:30 | 217 | 01:24:38 | 122 | 01:16:08 | 193 | 99:99:99 | 9999 |   | Atlantic Triathlon Club (ATC) | 1962 | WPT/00001/18 | 418 |
| 47 | Melanie Novitzkas | VWL | 17 | 03:25:25 | 194 | 77 | F45-49 | 9999 | 00:38:10 | 209 | 01:40:36 | 229 | 01:06:39 | 135 | 99:99:99 | 9999 |   | No IMTC | 1971 | NoTSA | 494 |
| 48 | Jennifer Marcus | SXL | 24 | 03:25:44 | 195 | 78 | F35-39 | 4 | 00:31:39 | 97 | 01:35:05 | 209 | 01:19:00 | 201 | 99:99:99 | 9999 |   | No IMTC | 1983 | WPT_R/1094/18 | 480 |
| 49 | Michael Eadie | SVL | 46 | 03:26:03 | 196 | 118 | M35-39 | 9999 | 00:34:21 | 154 | 01:58:49 | 250 | 00:52:53 | 42 | 99:99:99 | 9999 |   | No IMTC | 1982 | NoTSA | 341 |
| 50 | Rob Damerell | VML | 39 | 03:27:22 | 198 | 80 | M45-49 | 11 | 00:39:36 | 218 | 01:32:20 | 191 | 01:15:26 | 190 | 99:99:99 | 9999 |   | No IMTC | 1970 | WPT_R/1125/17 | 364 |
| 51 | Debra Kritzinger | SXL | 26 | 03:27:48 | 200 | 82 | F35-39 | 9999 | 00:37:00 | 201 | 01:27:04 | 150 | 01:23:44 | 213 | 99:99:99 | 9999 |   | No IMTC | 1982 | NoTSA | 470 |
| 52 | Marine Hoffmann | SXL | 27 | 03:27:48 | 201 | 82 | F35-39 | 9999 | 00:31:44 | 99 | 01:31:52 | 187 | 01:24:12 | 214 | 99:99:99 | 9999 |   | No IMTC | 1982 | NoTSA | 470 |
| 53 | Danielle Mascher | SXL | 28 | 03:28:50 | 208 | 86 | F35-39 | 5 | 00:42:55 | 233 | 01:26:58 | 148 | 01:18:57 | 200 | 99:99:99 | 9999 |   | No IMTC | 1983 | WPT_R/1112/17 | 465 |
| 54 | Angela Stevens | SXL | 29 | 03:33:30 | 212 | 88 | F30-34 | 5 | 00:30:50 | 88 | 01:36:10 | 214 | 01:26:30 | 221 | 99:99:99 | 9999 |   | No IMTC | 1987 | WPT_R/1124/18 | 442 |
| 55 | Melville Du Plessis | SVL | 51 | 03:41:00 | 222 | 127 | M35-39 | 9999 | 00:35:40 | 183 | 01:30:32 | 182 | 01:34:48 | 243 | 99:99:99 | 9999 |   | No IMTC | 1983 | NoTSA | 257 |
| 56 | Rodger Carter | SVL | 52 | 03:43:44 | 227 | 128 | M35-39 | 9999 | 00:39:38 | 219 | 01:32:40 | 195 | 01:31:26 | 237 | 99:99:99 | 9999 |   | No IMTC | 1980 | NoTSA | 242 |
| 57 | Wessel Van Der Merwe | GML | 2 | 03:45:03 | 229 | 129 | M65-69 | 2 | 00:44:39 | 240 | 01:35:16 | 212 | 01:25:08 | 215 | 99:99:99 | 9999 |   | No IMTC | 1952 | WPT_R/1122/18 | 481 |
| 58 | Rogeema Kenny | SXL | 34 | 03:46:20 | 231 | 101 | F35-39 | 9999 | 00:44:33 | 239 | 01:39:24 | 226 | 01:22:23 | 210 | 99:99:99 | 9999 |   | No IMTC | 1980 | NoTSA | 378 |
| 59 | Roxan Shapurjee | SXL | 35 | 03:47:49 | 233 | 103 | F30-34 | 9999 | 00:43:39 | 237 | 01:44:36 | 238 | 01:19:34 | 204 | 99:99:99 | 9999 |   | No IMTC | 1986 | NoTSA | 371 |
| 60 | Grant King | SVL | 54 | 03:53:01 | 239 | 134 | M35-39 | 6 | 00:34:09 | 149 | 01:34:28 | 206 | 01:44:24 | 247 | 99:99:99 | 9999 |   | No IMTC | 1982 | WPT_R/1095/18 | 190 |
| 61 | Gill Bowen | SWL | 23 | 03:55:43 | 243 | 108 | F30-34 | 9999 | 00:43:00 | 234 | 02:00:57 | 251 | 01:11:46 | 172 | 99:99:99 | 9999 |   | No IMTC | 1988 | NoTSA | 331 |
Slanghoek Road Triathlon – Sprint – ATC's Results
| | | | | | | | | | | | | | | | | | | | | | |
| --- | --- | --- | --- | --- | --- | --- | --- | --- | --- | --- | --- | --- | --- | --- | --- | --- | --- | --- | --- | --- | --- |
| ATC # | Name and Surname | Event | Cat | Finish | O/All | Sex | TSA Age | AG | Swim | Rank | Bike | Rank | Run | Rank | T1 & T2 | Rank |   | Ironman | YOB | TSA | League |
|   |   | Category | Pos | Time | Pos | Pos | Group | Pos | 550m |   | 20 Km |   | 5 Km |   |   |   |   | TriClub |   | Number | Points |
| 1 | Henry Wolstenholme | MMS | 1 | 01:13:30 | 4 | 4 | M50-54 | 1 | 00:16:58 | 30 | 00:35:36 | 6 | 00:20:56 | 3 | 99:99:99 | 9999 |   | No IMTC | 1967 | WPT/00190/18 | 832 |
| 2 | Christoff Van Heerden | SVS | 1 | 01:13:39 | 5 | 5 | M30-34 | 9999 | 00:14:23 | 14 | 00:33:35 | 3 | 00:25:41 | 18 | 99:99:99 | 9999 |   | No IMTC | 1985 | NoTSA | 722 |
| 3 | Colin Van Zyl | VMS | 1 | 01:14:03 | 6 | 6 | M45-49 | 1 | 00:15:17 | 20 | 00:33:33 | 2 | 00:25:13 | 15 | 99:99:99 | 9999 |   | No IMTC | 1969 | WPT_R/1042/18 | 756 |
| 4 | Marthinus Kemp | SMS | 4 | 01:14:50 | 7 | 7 | M30-34 | 1 | 00:13:28 | 7 | 00:36:40 | 10 | 00:24:42 | 13 | 99:99:99 | 9999 |   | Atlantic Triathlon Club (ATC) | 1988 | WPT/00025/18 | 709 |
| 5 | Richard Armstrong | SMS | 5 | 01:15:05 | 8 | 8 | M35-39 | 9999 | 00:14:17 | 11 | 00:37:29 | 12 | 00:23:19 | 4 | 99:99:99 | 9999 |   | No IMTC | 1983 | NoTSA | 707 |
| 6 | Caylan Bromley | JWS | 1 | 01:23:36 | 16 | 3 | F18-19 | 1 | 00:11:56 | 2 | 00:42:08 | 37 | 00:29:32 | 44 | 99:99:99 | 9999 |   | No IMTC | 1999 | WPT/00165/18 | 740 |
| 7 | Lucy Gauntlett | SWS | 2 | 01:24:14 | 17 | 4 | F25-29 | 9999 | 00:14:46 | 17 | 00:40:34 | 25 | 00:28:54 | 37 | 99:99:99 | 9999 |   | Atlantic Triathlon Club (ATC) | 1991 | NoTSA | 713 |
| 8 | Uta Lehmann | SXS | 2 | 01:24:59 | 21 | 5 | F35-39 | 9999 | 00:17:46 | 41 | 00:42:55 | 48 | 00:24:18 | 9 | 99:99:99 | 9999 |   | No IMTC | 1982 | NoTSA | 728 |
| 9 | Sam Houlie | VMS | 5 | 01:27:50 | 34 | 27 | M50-54 | 9999 | 00:17:16 | 33 | 00:44:54 | 71 | 00:25:40 | 17 | 99:99:99 | 9999 |   | No IMTC | 1968 | NoTSA | 702 |
| 10 | Johan Van Den Berg | SVS | 7 | 01:28:09 | 35 | 28 | M35-39 | 1 | 00:14:10 | 10 | 00:41:47 | 32 | 00:32:12 | 73 | 99:99:99 | 9999 |   | No IMTC | 1979 | WPT/00161/18 | 569 |
| 11 | Roelof Joubert | VMS | 8 | 01:30:05 | 40 | 33 | M40-44 | 1 | 00:16:16 | 25 | 00:40:32 | 24 | 00:33:17 | 86 | 99:99:99 | 9999 |   | No IMTC | 1976 | WPT/00205/18 | 595 |
| 12 | Britt Hyland | VWS | 4 | 01:31:29 | 48 | 13 | F45-49 | 2 | 00:14:38 | 16 | 00:42:31 | 43 | 00:34:20 | 102 | 99:99:99 | 9999 |   | No IMTC | 1972 | WPT/00156/18 | 684 |
| 13 | Oonagh Hunter | VWS | 8 | 01:36:48 | 69 | 24 | F45-49 | 9999 | 00:19:28 | 75 | 00:43:44 | 55 | 00:33:36 | 87 | 99:99:99 | 9999 |   | No IMTC | 1970 | NoTSA | 636 |
| 14 | Kris Joss | VWS | 9 | 01:37:47 | 72 | 25 | F40-44 | 9999 | 00:19:12 | 66 | 00:44:03 | 59 | 00:34:32 | 105 | 99:99:99 | 9999 |   | No IMTC | 1976 | NoTSA | 627 |
| 15 | Kevin Reid | MMS | 6 | 01:39:01 | 79 | 50 | M55-59 | 9999 | 00:18:36 | 56 | 00:43:45 | 56 | 00:36:40 | 121 | 99:99:99 | 9999 |   | No IMTC | 1962 | NoTSA | 600 |
| 16 | Melanie Janson | SXS | 12 | 01:39:08 | 80 | 30 | F40-44 | 2 | 00:19:21 | 70 | 00:44:41 | 69 | 00:35:06 | 114 | 99:99:99 | 9999 |   | No IMTC | 1978 | WPT_R/1116/18 | 615 |
| 17 | Julia Kearns | VWS | 12 | 01:39:30 | 81 | 31 | F45-49 | 3 | 00:17:22 | 34 | 00:47:07 | 102 | 00:35:01 | 113 | 99:99:99 | 9999 |   | No IMTC | 1972 | WPT_R/1088/18 | 612 |
| 18 | Shelley Van Leeuwen | VWS | 13 | 01:40:38 | 84 | 34 | F45-49 | 9999 | 00:19:07 | 64 | 00:47:22 | 107 | 00:34:09 | 98 | 99:99:99 | 9999 |   | No IMTC | 1969 | NoTSA | 602 |
| 19 | Michael Du Toit | MMS | 7 | 01:41:34 | 91 | 53 | M55-59 | 9999 | 00:21:50 | 111 | 00:42:46 | 46 | 00:36:58 | 122 | 99:99:99 | 9999 |   | No IMTC | 1963 | NoTSA | 577 |
| 20 | Richard Shuttleworth | VMS | 13 | 01:42:25 | 97 | 57 | M45-49 | 9999 | 00:19:48 | 81 | 00:48:42 | 117 | 00:33:55 | 95 | 99:99:99 | 9999 |   | No IMTC | 1972 | NoTSA | 471 |
| 21 | Meg Holtzhausen | VWS | 17 | 01:42:56 | 100 | 41 | F40-44 | 9999 | 00:22:05 | 117 | 00:46:58 | 99 | 00:33:53 | 94 | 99:99:99 | 9999 |   | No IMTC | 1974 | NoTSA | 581 |
| 22 | Louis Botha | VMS | 15 | 01:42:58 | 101 | 60 | M25-29 | 9999 | 00:29:11 | 163 | 00:43:53 | 57 | 00:29:54 | 51 | 99:99:99 | 9999 |   | No IMTC | 1992 | NoTSA | 311 |
| 23 | Martin Giles | MMS | 8 | 01:43:32 | 103 | 61 | M50-54 | 2 | 00:20:53 | 95 | 00:50:08 | 129 | 00:32:31 | 79 | 99:99:99 | 9999 |   | No IMTC | 1965 | WPT_R/1038/18 | 559 |
| 24 | Izel Storm | SWS | 8 | 01:43:44 | 105 | 44 | F25-29 | 9999 | 00:22:43 | 125 | 00:46:17 | 90 | 00:34:44 | 108 | 99:99:99 | 9999 |   | No IMTC | 1989 | NoTSA | 531 |
| 25 | Madelein Van Zyl | SXS | 20 | 01:45:37 | 111 | 49 | F35-39 | 2 | 00:21:54 | 113 | 00:47:15 | 103 | 00:36:28 | 120 | 99:99:99 | 9999 |   | No IMTC | 1982 | WPT_R/1027/18 | 540 |
| 26 | Mujahid Adams | VMS | 16 | 01:46:23 | 115 | 63 | M40-44 | 9999 | 00:21:57 | 115 | 00:46:39 | 93 | 00:37:47 | 129 | 99:99:99 | 9999 |   | No IMTC | 1976 | NoTSA | 431 |
| 27 | Humaira Surve | SXS | 21 | 01:47:45 | 120 | 55 | F30-34 | 9999 | 00:24:35 | 140 | 00:49:02 | 119 | 00:34:08 | 97 | 99:99:99 | 9999 |   | No IMTC | 1984 | NoTSA | 521 |
| 28 | Elton Alexander | VMS | 20 | 01:49:12 | 126 | 67 | M40-44 | 9999 | 00:32:49 | 173 | 00:41:59 | 35 | 00:34:24 | 103 | 99:99:99 | 9999 |   | No IMTC | 1977 | NoTSA | 402 |
| 29 | Siraj Majiet | SVS | 16 | 01:50:16 | 130 | 68 | M35-39 | 9999 | 00:21:23 | 100 | 00:50:44 | 131 | 00:38:09 | 133 | 99:99:99 | 9999 |   | No IMTC | 1979 | NoTSA | 335 |
| 30 | Karen Battiston | SXS | 24 | 01:50:17 | 131 | 63 | F30-34 | 9999 | 00:20:32 | 90 | 00:48:25 | 116 | 00:41:20 | 151 | 99:99:99 | 9999 |   | No IMTC | 1986 | NoTSA | 498 |
| 31 | Lindsay Cilliers | SXS | 30 | 01:57:13 | 148 | 78 | F30-34 | 1 | 00:21:56 | 114 | 00:50:21 | 130 | 00:44:56 | 162 | 99:99:99 | 9999 |   | Atlantic Triathlon Club (ATC) | 1986 | WPT_R/1087/18 | 435 |
| 32 | Linda Mannion | SXS | 31 | 01:58:15 | 149 | 79 | F35-39 | 9999 | 00:27:57 | 160 | 00:49:58 | 126 | 00:40:20 | 148 | 99:99:99 | 9999 |   | No IMTC | 1980 | NoTSA | 425 |
| 33 | Jenna Holmwood | SWS | 17 | 01:58:31 | 151 | 81 | F20-24 | 9999 | 00:23:14 | 130 | 00:55:48 | 158 | 00:39:29 | 144 | 99:99:99 | 9999 |   | No IMTC | 1995 | NoTSA | 393 |
| 34 | Elmarie Werth | SXS | 32 | 02:02:32 | 154 | 83 | F35-39 | 9999 | 00:25:03 | 144 | 00:53:39 | 147 | 00:43:50 | 161 | 99:99:99 | 9999 |   | No IMTC | 1982 | NoTSA | 387 |
| 35 | Christina Thomas | VWS | 28 | 02:09:23 | 161 | 88 | F45-49 | 9999 | 00:31:05 | 169 | 00:51:52 | 139 | 00:46:26 | 165 | 99:99:99 | 9999 |   | Atlantic Triathlon Club (ATC) | 1973 | NoTSA | 345 |
| 36 | Stephanie Schwatlo | SXS | 35 | 02:09:24 | 163 | 90 | F35-39 | 9999 | 00:30:42 | 166 | 00:52:10 | 141 | 00:46:32 | 166 | 99:99:99 | 9999 |   | No IMTC | 1980 | NoTSA | 324 |
| 37 | Taschyana Hurter | SXS | 37 | 02:15:06 | 167 | 94 | F35-39 | 3 | 00:26:47 | 153 | 00:54:49 | 153 | 00:53:30 | 175 | 99:99:99 | 9999 |   | Atlantic Triathlon Club (ATC) | 1979 | WPT_R/1108/18 | 272 |
| 38 | Yumna Frizlar | SXS | 39 | 02:19:04 | 169 | 96 | F35-39 | 9999 | 00:35:47 | 176 | 00:52:24 | 142 | 00:50:53 | 172 | 99:99:99 | 9999 |   | No IMTC | 1983 | NoTSA | 236 |
| 39 | Tamsin Barrett | SXS | 41 | 02:23:30 | 174 | 100 | F35-39 | 9999 | 00:27:23 | 156 | 00:56:58 | 162 | 00:59:09 | 176 | 99:99:99 | 9999 |   | No IMTC | 1982 | NoTSA | 196 |
| 40 | Natalie Weingartz | SXS | 43 | 02:39:10 | 178 | 104 | F35-39 | 4 | 00:26:37 | 151 | 01:02:47 | 171 | 01:09:46 | 178 | 99:99:99 | 9999 |   | No IMTC | 1982 | WPT_R/1073/17 | 54 |
Slanghoek Off-Road Triathlon – Long – ATC's Results
| | | | | | | | | | | | | | | | | | | | |
| --- | --- | --- | --- | --- | --- | --- | --- | --- | --- | --- | --- | --- | --- | --- | --- | --- | --- | --- | --- |
| ATC # | Name and Surname | Event | Cat | Finish | O/All | Sex | TSA Age | AG | Swim | Rank | Bike | Rank | Run | Rank |   | Ironman | YOB | TSA | League |
|   |   | Category | Pos | Time | Pos | Pos | Group | Pos | 1.1 Km |   | 25 Km |   | 10 Km |   |   | TriClub |   | Number | Points |
| 1 | Matthew Daneel | SVL | 1 | 02:25:51 | 2 | 2 | M30-34 | 9999 | 00:23:46 | 4 | 01:14:12 | 2 | 00:47:53 | 2 |   | No IMTC | 1987 | NoTSA | 749 |
| 2 | Vicky Van Der Merwe | SWL | 1 | 02:46:16 | 6 | 1 | F25-29 | 1 | 00:24:28 | 6 | 01:28:21 | 7 | 00:53:27 | 14 |   | No IMTC | 1989 | WPT/00264/17 | 567 |
| 3 | Douglas Burger | MML | 1 | 02:52:34 | 10 | 9 | M50-54 | 1 | 00:26:49 | 10 | 01:32:28 | 13 | 00:53:17 | 12 |   | Atlantic Triathlon Club (ATC) | 1967 | WPT/00162/18 | 537 |
| 4 | Steven Mewissen | VML | 3 | 03:02:59 | 14 | 13 | M40-44 | 2 | 00:30:18 | 22 | 01:32:56 | 14 | 00:59:45 | 24 |   | No IMTC | 1976 | WPT TBA2362/17 | 547 |
| 5 | Sandy Russell | VWL | 2 | 03:08:27 | 24 | 5 | F40-44 | 1 | 00:26:23 | 8 | 01:47:07 | 37 | 00:54:57 | 16 |   | No IMTC | 1977 | WPT/00191/17 | 568 |
| 6 | Roelof Joubert | VML | 8 | 03:09:16 | 28 | 23 | M40-44 | 3 | 00:29:35 | 20 | 01:31:33 | 12 | 01:08:08 | 40 |   | No IMTC | 1976 | WPT/00205/18 | 515 |
| 7 | Joshua Janks | SVL | 12 | 03:27:58 | 39 | 31 | M35-39 | 2 | 00:35:14 | 38 | 01:50:27 | 39 | 01:02:17 | 32 |   | No IMTC | 1983 | WPT/00194/18 | 429 |
| 8 | Wouter Hanekom | SML | 12 | 03:58:52 | 46 | 37 | M25-29 | 1 | 00:39:46 | 44 | 02:04:43 | 46 | 01:14:23 | 44 |   | No IMTC | 2016 | WPT/00015/18 | 285 |
Slanghoek Off-Road Triathlon – Short – ATC's Results
| | | | | | | | | | | | | | | | | | | | |
| --- | --- | --- | --- | --- | --- | --- | --- | --- | --- | --- | --- | --- | --- | --- | --- | --- | --- | --- | --- |
| ATC # | Name and Surname | Event | Cat | Finish | O/All | Sex | TSA Age | AG | Swim | Rank | Bike | Rank | Run | Rank |   | Ironman | YOB | TSA | League |
|   |   | Category | Pos | Time | Pos | Pos | Group | Pos | 550m |   | 12 Km |   | 5 Km |   |   | TriClub |   | Number | Points |
| 1 | Dean Hopf | SMS | 1 | 01:04:57 | 1 | 1 | M30-34 | 1 | 00:12:08 | 2 | 00:30:25 | 1 | 00:22:24 | 3 |   | Atlantic Triathlon Club (ATC) | 1986 | WPT_R/1104/18 | 851 |
| 2 | David Durham | SVS | 1 | 01:10:56 | 5 | 5 | M30-34 | 2 | 00:11:40 | 1 | 00:36:17 | 10 | 00:22:59 | 4 |   | No IMTC | 1984 | WPT_R/1090/18 | 791 |
| 3 | Lucy Gauntlett | SWS | 2 | 01:21:43 | 10 | 3 | F25-29 | 9999 | 00:14:44 | 8 | 00:39:36 | 28 | 00:27:23 | 16 |   | Atlantic Triathlon Club (ATC) | 1991 | NoTSA | 683 |
| 4 | Wouter Kriegler | SVS | 3 | 01:24:00 | 12 | 9 | M30-34 | 9999 | 00:20:16 | 41 | 00:34:07 | 7 | 00:29:37 | 32 |   | Atlantic Triathlon Club (ATC) | 1984 | NoTSA | 660 |
| 5 | Alun Darwood | VMS | 4 | 01:30:12 | 29 | 21 | M40-44 | 2 | 00:20:37 | 45 | 00:41:11 | 37 | 00:28:24 | 23 |   | Atlantic Triathlon Club (ATC) | 1974 | WPT_R/1017/17 | 680 |
| 6 | William Marais | MMS | 2 | 01:31:46 | 32 | 24 | M50-54 | 9999 | 00:21:19 | 55 | 00:38:28 | 19 | 00:31:59 | 43 |   | No IMTC | 1964 | NoTSA | 736 |
| 7 | Leigh Rynhoud | VWS | 3 | 01:39:53 | 52 | 15 | F45-49 | 9999 | 00:20:46 | 48 | 00:45:00 | 54 | 00:34:07 | 60 |   | No IMTC | 1973 | NoTSA | 668 |
| 8 | Thomas Ashcroft | SVS | 16 | 01:41:20 | 56 | 40 | M30-34 | 9999 | 00:22:29 | 68 | 00:48:58 | 74 | 00:29:53 | 34 |   | No IMTC | 1987 | NoTSA | 487 |
| 9 | Mary Faulks | SXS | 5 | 01:44:33 | 62 | 21 | F35-39 | 9999 | 00:20:30 | 44 | 00:45:44 | 59 | 00:38:19 | 83 |   | No IMTC | 1979 | NoTSA | 550 |
| 10 | Nina Steyn | SXS | 10 | 01:57:18 | 88 | 30 | F40-44 | 9999 | 00:24:47 | 87 | 00:59:13 | 100 | 00:33:18 | 52 |   | No IMTC | 1978 | NoTSA | 523 |