25 Nov '17: RESULTS – DC17
Published by ATC Multisport on Sun, 26 Nov 2017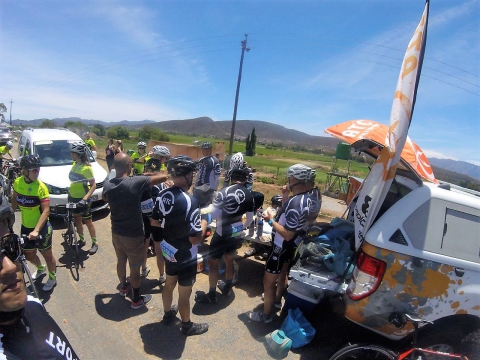 Results – Coronation Double Century
The Coronation Double Century, which took place on Saturday, 25 November, was a huge success for ATC, with all four our teams finishing with all 12 riders.  Embark also had four teams representing but a crash took out some of the Northern Suburbs' riders.  The ATC & Embark Teams' results are below.
A special word of thanks goes to our supporters, who had a long day out there in the sun and traffic:  Amanda Bloch, Hazel McQueen, Jessica Hopley, Leonie Hurter, Lindsay Cilliers, Lisa Lawson and Zameer Osman.
All-in-all ATC had almost 150 riders at the event.  Further down you will find the results of all ATC members who rode for our or other teams.
ATC & Embark Teams' Results
Team Name

Race#

Time

Team Position

Category

Cat Position

Atlantic Triathlon Club      98

06:28:37

113/256

Mixed

20/63

Alisha Myers

Angelique Edwards

Bjorn Pienaar

Darrin Hofmeyr

Jessica Griesel

Jonathan Edwards

Kateryna Tertiienko

Milo Kritzinger

Peter Adolphs

Sally Misplon

Thamsanqa Gumpo

Travys Wilkins

 

 

 

 

 

 

Embark Town     89

07:21:25

190/256

Open

147/187

Carl May

Dan Marcus

Eduard Van Den Heever

Emma Heap

Gavin Cilliers

Genine Manchip

Gerhardt Van Niekerk

Marco Barbieri

Mario Penso

Michael Redington

STeve Attwell

Taschyana Hurter

 

 

 

 

 

 

ATC Cycling     25

07:44:10

213/256

Mixed

48/63

B-Rabbit Carter

Charl Souma

Gerhard Van Niekerk

Jo-Marie Wolfaardt

Karla Ray

Kris Joss

Kyle Burton

Lindsay Jolly

Marc Wilson

Marisa Smalberger

Nicolien Booysen

Scott Salvage

 

 

 

 

 

 

Embark Southern Suburbs     60

08:02:49

225/256

Mixed

51/63

Alan Bird

Amy Wessels

Andrew Tucker

Danielle Mascher

Gareth Dragt

Gerhard Janse Van Rensburg

Kyle Goetsch

Kyle Lotz

Lienke Janse Van Rensburg

Patrick Lawson

Robin Bolten

 

 

 

 

 

 

 

Embark NS     85

08:03:15

226/256

Mixed

52/63

Brand Van Den Heever

Elizma Geldenhuys

Isaac Malgas

Jenny O`Hanlon

Johan Rousseau

Jp Cronje

Venetia Landman

Wielie Frick

Willem Frylinck

Willie De Witt

Wynand Blom

 

 

 

 

 

 

 

ATC Multisport     31

08:05:36

228/256

Open

170/187

Aashiek Parker

Brad Voges

Butch Leask

David Petersen

Dawn Clarke

Gert Wilkins

Jeremy De Tolly

Kelsey Tanner

Mohamed Mansura

Raees Ahmed Dalvie

Reza Khan

Serge Witkowsky

 

 

 

 

 

 

Embark Kaas & Wyn     62

08:19:04

236/256

Mixed

56/63

Andries Van Eeden

Carin Bothma

Hugo Hall

Marcolette Stander

Monique Coetzee

Roelof Joubert

Yolanda Deale

 

 

 

 

 

 

 

 

 

 

 

MiWay MiFitLife ATC Mixed      7

08:29:37

243/256

Mixed

59/63

Alistair Chivell

Handre Durand

Katie Neill

Kevin Mckinney

Kirsten Hopwood

Lara Browne

Leigh White

Marius Tinney-Crook

Peter Mcewan

Robyn Leigh Elford

Steph Appel

Trevor Hodgson
All ATC Members' Results
| | | | | | | | |
| --- | --- | --- | --- | --- | --- | --- | --- |
| ATC # | Team | Rider | Team | Cat | Finish | Indiv | Team |
|   | Name | Name | Category | Pos | Time | Pos | Pos |
| 1 | Freewheel Cycology Racing | Jean De Villiers | Open | 8/187 | 04:51:47 | 60 | 8/256 |
| 2 | Pure Savage | Bernard Griesel | Open | 15/187 | 05:00:21 | 128 | 15/256 |
| 3 | The Misfits | Brett Chilcott | Open | 24/187 | 05:20:15 | 246 | 27/256 |
| 4 | Laurium | Rohan Kennedy | Mixed | 4/63 | 05:20:51 | 257 | 29/256 |
| 5 | $ Ride | Ross Rivalland | Open | 27/187 | 05:24:03 | 276 | 31/256 |
| 6 | Constantia Wolfpack | Grant Quixley | Open | 28/187 | 05:24:42 | 290 | 32/256 |
| 7 | Spu | Greg Goodall | Open | 35/187 | 05:30:42 | 362 | 39/256 |
| 8 | Spu | Davide Del Fante | Open | 35/187 | 05:30:43 | 364 | 39/256 |
| 9 | Spu | Graeme Edwards | Open | 35/187 | 05:30:43 | 365 | 39/256 |
| 10 | Spu | Nick Turner | Open | 35/187 | 05:30:49 | 369 | 39/256 |
| 11 | Spu | Ryan Jossel | Open | 35/187 | 05:35:11 | 381 | 39/256 |
| 12 | Spu | Bryan Nicholson | Open | 35/187 | 05:37:36 | 405 | 39/256 |
| 13 | Wintergreen | Ben Nortier | Mixed | 5/63 | 05:41:57 | 470 | 48/256 |
| 14 | Wingman Multistars | Jenny Close | Mixed | 6/63 | 05:43:32 | 488 | 50/256 |
| 15 | Wingman Multistars | Gareth Payne | Mixed | 6/63 | 05:43:32 | 489 | 50/256 |
| 16 | Wingman Multistars | Tyron Ingle | Mixed | 6/63 | 05:43:32 | 490 | 50/256 |
| 17 | Wingman Multistars | Eugene Lindeque | Mixed | 6/63 | 05:43:32 | 491 | 50/256 |
| 18 | Wingman Multistars | Jonty Low | Mixed | 6/63 | 05:43:32 | 492 | 50/256 |
| 19 | Wingman Multistars | Robyn Perry | Mixed | 6/63 | 05:43:33 | 495 | 50/256 |
| 20 | Securitas Gms Systems | Sean Tait | Open | 46/187 | 05:46:04 | 516 | 53/256 |
| 21 | Iop (It'S Only Pain | Lucas Adams | Open | 40/187 | 05:46:55 | 537 | 45/256 |
| 22 | Wingman Multistars | David Sullivan | Mixed | 6/63 | 05:47:25 | 544 | 50/256 |
| 23 | Traderoot Ride For A Child 1 | Duane Hulley | Open | 52/187 | 05:51:04 | 579 | 59/256 |
| 24 | Ssss | Johan Van Der Watt | Open | 53/187 | 05:51:50 | 600 | 61/256 |
| 25 | Fat Bob | Riaan Meintjes | Open | 54/187 | 05:54:38 | 630 | 63/256 |
| 26 | Cape Multisport Club 1 | Morne Theron | Mixed | 9/63 | 05:57:02 | 644 | 65/256 |
| 27 | Cape Multisport Club 1 | Peter Van Wyk | Mixed | 9/63 | 06:04:20 | 739 | 65/256 |
| 28 | Vida E Caffe - Anton Newbury | Giancarlo Lanfranchi | Mixed | 11/63 | 06:05:45 | 768 | 77/256 |
| 29 | Beers & Gears | Dean Nolte | Open | 66/187 | 06:06:15 | 793 | 79/256 |
| 30 | The Outoftowners | Genelle Van Der Riet | Mixed | 13/63 | 06:08:08 | 819 | 82/256 |
| 31 | Statpro Skidmarks | David Talbot | Open | 57/187 | 06:09:12 | 842 | 67/256 |
| 32 | Absa Cape Epic | Miguel Netto | Open | 75/187 | 06:13:51 | 913 | 91/256 |
| 33 | Muffin Mate | Nolan Steele | Open | 76/187 | 06:14:28 | 920 | 92/256 |
| 34 | Southern Ropes | Philip Le Roux | Open | 55/187 | 06:18:26 | 979 | 64/256 |
| 35 | Sanlam Se Saam Lam | Alison Hartley | Mixed | 17/63 | 06:21:25 | 1026 | 100/256 |
| 36 | Ccc Intermediate | Morne Van Der Westhuizen | Open | 82/187 | 06:22:14 | 1043 | 101/256 |
| 37 | Anderson Transport | Johan Fourie | Open | 64/187 | 06:23:01 | 1059 | 74/256 |
| 38 | My Training Day | Alexandra Reid | Mixed | 18/63 | 06:24:20 | 1076 | 104/256 |
| 39 | Imperial Logistics | De Wet Albertyn | Open | 88/187 | 06:27:12 | 1140 | 109/256 |
| 40 | Atlantic Triathlon Club | Alisha Myers | Mixed | 20/63 | 06:28:37 | 1177 | 113/256 |
| 41 | Atlantic Triathlon Club | Jessica Griesel | Mixed | 20/63 | 06:28:37 | 1178 | 113/256 |
| 42 | Atlantic Triathlon Club | Travys Wilkins | Mixed | 20/63 | 06:28:37 | 1179 | 113/256 |
| 43 | Atlantic Triathlon Club | Sally Misplon | Mixed | 20/63 | 06:28:37 | 1181 | 113/256 |
| 44 | Atlantic Triathlon Club | Jonathan Edwards | Mixed | 20/63 | 06:28:38 | 1183 | 113/256 |
| 45 | Atlantic Triathlon Club | Bjorn Pienaar | Mixed | 20/63 | 06:28:38 | 1185 | 113/256 |
| 46 | Atlantic Triathlon Club | Darrin Hofmeyr | Mixed | 20/63 | 06:28:39 | 1186 | 113/256 |
| 47 | #Wrecked | Denise Yazar | Mixed | 21/63 | 06:28:46 | 1189 | 114/256 |
| 48 | #Wrecked | Lisa Kaestner | Mixed | 21/63 | 06:28:46 | 1191 | 114/256 |
| 49 | My Training Day | Ian Lessem | Mixed | 18/63 | 06:30:59 | 1215 | 104/256 |
| 50 | Traderoot Ride For A Child 2 | Jonathan Van Wyk | Open | 93/187 | 06:31:09 | 1226 | 116/256 |
| 51 | Stellenbosch Triathlon Squad | Vicky Van Der Merwe | Mixed | 22/63 | 06:33:04 | 1265 | 120/256 |
| 52 | Choc | Anneke Viljoen | Mixed | 23/63 | 06:36:08 | 1305 | 124/256 |
| 53 | Choc | Craig Sutherland | Mixed | 23/63 | 06:36:08 | 1306 | 124/256 |
| 54 | Choc | Michael Byron | Mixed | 23/63 | 06:36:10 | 1309 | 124/256 |
| 55 | Cecil Nurse | Tinus Kemp | Open | 101/187 | 06:37:39 | 1340 | 127/256 |
| 56 | Pok Life | Andre Pepler | Open | 107/187 | 06:40:07 | 1411 | 134/256 |
| 57 | Multilayer/Cryospace | Gary Thomas | Open | 49/187 | 06:41:51 | 1444 | 56/256 |
| 58 | Cape Town Giants - Dc1 | Sedick Van Der Schyff | Open | 120/187 | 06:50:23 | 1587 | 151/256 |
| 59 | Trilife | Andrew Barends | Mixed | 27/63 | 06:50:25 | 1596 | 149/256 |
| 60 | Trane 202 | Frank Van Asperen | Open | 122/187 | 06:53:16 | 1623 | 154/256 |
| 61 | Step Up | Michelle Krebs | Open | 124/187 | 06:54:52 | 1636 | 156/256 |
| 62 | Step Up | Andre Brand | Open | 124/187 | 06:54:52 | 1637 | 156/256 |
| 63 | Dambusters | Steve Armstrong | Open | 125/187 | 06:59:37 | 1656 | 157/256 |
| 64 | Dambusters | Richard Armstrong | Open | 125/187 | 06:59:43 | 1657 | 157/256 |
| 65 | Southern Air Conditioning | Matthew Evans | Open | 130/187 | 07:03:13 | 1732 | 164/256 |
| 66 | Southern Air Conditioning | Carmen Burger | Open | 130/187 | 07:03:13 | 1733 | 164/256 |
| 67 | Southern Air Conditioning | Patrick Semple | Open | 130/187 | 07:03:13 | 1735 | 164/256 |
| 68 | Scc | Brandon Fortuin | Open | 121/187 | 07:03:47 | 1741 | 152/256 |
| 69 | Rbf | Kirsty Blackford | Mixed | 34/63 | 07:13:34 | 1882 | 178/256 |
| 70 | Rbf | Lesyl Potgieter | Mixed | 34/63 | 07:13:34 | 1884 | 178/256 |
| 71 | Rbf | Salvatore Puglia | Mixed | 34/63 | 07:13:37 | 1891 | 178/256 |
| 72 | Rbf | Britt Hyland | Mixed | 34/63 | 07:13:38 | 1892 | 178/256 |
| 73 | Rbf | Lara Fury | Mixed | 34/63 | 07:13:44 | 1895 | 178/256 |
| 74 | Myeo & Tri Buddies | Alon Sachs | Mixed | 35/63 | 07:15:11 | 1918 | 181/256 |
| 75 | Myeo & Tri Buddies | Elena Cremasco | Mixed | 35/63 | 07:15:11 | 1921 | 181/256 |
| 76 | Coro Reserves | Greig Jansen | Open | 142/187 | 07:15:34 | 1925 | 182/256 |
| 77 | Myeo & Tri Buddies | Denise Major | Mixed | 35/63 | 07:15:50 | 1935 | 181/256 |
| 78 | Moremiles | Mark Lynam | Open | 143/187 | 07:18:05 | 1957 | 184/256 |
| 79 | Pieter'S Team | James Reid | Mixed | 37/63 | 07:19:59 | 1994 | 188/256 |
| 80 | Embark Town | Emma Heap | Open | 147/187 | 07:21:25 | 2013 | 190/256 |
| 81 | Embark Town | Taschyana Hurter | Open | 147/187 | 07:21:25 | 2014 | 190/256 |
| 82 | Embark Town | Genine Manchip | Open | 147/187 | 07:21:25 | 2015 | 190/256 |
| 83 | Embark Town | Carl May | Open | 147/187 | 07:21:25 | 2016 | 190/256 |
| 84 | Embark Town | Eduard Van Den Heever | Open | 147/187 | 07:21:25 | 2017 | 190/256 |
| 85 | Embark Town | Gerhardt Van Niekerk | Open | 147/187 | 07:21:25 | 2018 | 190/256 |
| 86 | Embark Town | Marco Barbieri | Open | 147/187 | 07:21:26 | 2019 | 190/256 |
| 87 | Embark Town | Mario Penso | Open | 147/187 | 07:21:26 | 2020 | 190/256 |
| 88 | Embark Town | Gavin Cilliers | Open | 147/187 | 07:21:26 | 2022 | 190/256 |
| 89 | Embark Town | STeve Attwell | Open | 147/187 | 07:21:27 | 2024 | 190/256 |
| 90 | Aip Capital Management | Bruere Kloppers | Open | 149/187 | 07:21:54 | 2027 | 192/256 |
| 91 | Pow Wow | Martha Koekemoer | Open | 151/187 | 07:25:48 | 2066 | 195/256 |
| 92 | Wannabees Wannacycle | Helgo Hohenstein | Mixed | 40/63 | 07:27:38 | 2092 | 196/256 |
| 93 | Britos | Madele Van Heerden | Mixed | 44/63 | 07:33:35 | 2171 | 204/256 |
| 94 | Afrishore | Paul Kruger | Mixed | 45/63 | 07:34:32 | 2185 | 205/256 |
| 95 | Atlas Tower | Wouter Kriegler | Mixed | 47/63 | 07:41:29 | 2253 | 210/256 |
| 96 | Cmc Half Wheelers | Sharon Whall | Open | 159/187 | 07:42:28 | 2265 | 211/256 |
| 97 | ATC Cycling | Kris Joss | Mixed | 48/63 | 07:44:10 | 2281 | 213/256 |
| 98 | ATC Cycling | Jo-Marie Wolfaardt | Mixed | 48/63 | 07:44:10 | 2282 | 213/256 |
| 99 | ATC Cycling | Charl Souma | Mixed | 48/63 | 07:44:11 | 2287 | 213/256 |
| 100 | ATC Cycling | Marc Wilson | Mixed | 48/63 | 07:44:12 | 2289 | 213/256 |
| 101 | ATC Cycling | Karla Ray | Mixed | 48/63 | 07:44:12 | 2290 | 213/256 |
| 102 | ATC Cycling | Scott Salvage | Mixed | 48/63 | 07:44:13 | 2292 | 213/256 |
| 103 | Wbho Team B | Steve Wearne | Open | 164/187 | 07:48:47 | 2340 | 217/256 |
| 104 | Roadcover Women'S Cycling Team | Debbie Hibbert | Female | 42830 | 07:51:13 | 2343 | 218/256 |
| 105 | Roadcover Women'S Cycling Team | Vibeke Moore | Female | 42830 | 07:51:13 | 2346 | 218/256 |
| 106 | Roadcover Women'S Cycling Team | Tamryn Combrink | Female | 42830 | 07:51:13 | 2348 | 218/256 |
| 107 | Roadcover Women'S Cycling Team | Natalie Willemse | Female | 42830 | 07:51:18 | 2351 | 218/256 |
| 108 | Kikstart | Tania Fourie | Mixed | 49/63 | 07:53:24 | 2355 | 219/256 |
| 109 | Road Bike Magazine | Graham Rogoff | Open | 167/187 | 08:00:27 | 2406 | 222/256 |
| 110 | Road Bike Magazine | Paul Ingpen | Open | 167/187 | 08:00:27 | 2409 | 222/256 |
| 111 | Road Bike Magazine | Abre Roux | Open | 167/187 | 08:00:27 | 2410 | 222/256 |
| 112 | Choc | Mark Cliff | Mixed | 23/63 | 08:02:47 | 2437 | 124/256 |
| 113 | Embark Southern Suburbs | Patrick Lawson | Mixed | 51/63 | 08:02:49 | 2439 | 225/256 |
| 114 | Embark Southern Suburbs | Gareth Dragt | Mixed | 51/63 | 08:02:50 | 2443 | 225/256 |
| 115 | Embark Southern Suburbs | Alan Bird | Mixed | 51/63 | 08:02:50 | 2444 | 225/256 |
| 116 | Embark Southern Suburbs | Danielle Mascher | Mixed | 51/63 | 08:02:50 | 2445 | 225/256 |
| 117 | Embark Ns | Venetia Landman | Mixed | 52/63 | 08:03:15 | 2455 | 226/256 |
| 118 | ATC Multisport | Kelsey Tanner | Open | 170/187 | 08:05:36 | 2464 | 228/256 |
| 119 | ATC Multisport | Butch Leask | Open | 170/187 | 08:05:36 | 2465 | 228/256 |
| 120 | ATC Multisport | Reza Khan | Open | 170/187 | 08:05:36 | 2466 | 228/256 |
| 121 | ATC Multisport | Dawn Clarke | Open | 170/187 | 08:05:36 | 2467 | 228/256 |
| 122 | ATC Multisport | Jeremy De Tolly | Open | 170/187 | 08:05:36 | 2468 | 228/256 |
| 123 | ATC Multisport | David Petersen | Open | 170/187 | 08:05:36 | 2469 | 228/256 |
| 124 | ATC Multisport | Gert Wilkins | Open | 170/187 | 08:05:36 | 2470 | 228/256 |
| 125 | ATC Multisport | Mohamed Mansura | Open | 170/187 | 08:05:36 | 2471 | 228/256 |
| 126 | ATC Multisport | Serge Witkowsky | Open | 170/187 | 08:05:36 | 2473 | 228/256 |
| 127 | ATC Multisport | Raees Ahmed Dalvie | Open | 170/187 | 08:05:37 | 2474 | 228/256 |
| 128 | ATC Multisport | Aashiek Parker | Open | 170/187 | 08:05:37 | 2475 | 228/256 |
| 129 | Old Mutual | Everett Brown | Open | 169/187 | 08:06:54 | 2489 | 227/256 |
| 130 | Old Mutual | Russell Smedley | Open | 169/187 | 08:06:54 | 2493 | 227/256 |
| 131 | Old Mutual | Darrin Galvin | Open | 169/187 | 08:06:54 | 2494 | 227/256 |
| 132 | Spartons | Ashleigh Hansen | Mixed | 53/63 | 08:11:05 | 2503 | 230/256 |
| 133 | Spartons | Mario Santana | Mixed | 53/63 | 08:11:05 | 2504 | 230/256 |
| 134 | Wingman Funzies | Marinda Lindeque | Mixed | 54/63 | 08:11:24 | 2511 | 231/256 |
| 135 | Coronation Mechanics | Mike Brown | Open | 176/187 | 08:18:13 | 2574 | 238/256 |
| 136 | Embark Kaas & Wyn | Roelof Joubert | Mixed | 56/63 | 08:19:04 | 2585 | 236/256 |
| 137 | Outriders Leg Looseners | Alison Ting Chong | Mixed | 58/63 | 08:20:29 | 2606 | 240/256 |
| 138 | Miway Mifitlife Atc Mixed | Alistair Chivell | Mixed | 59/63 | 08:29:37 | 2634 | 243/256 |
| 139 | Miway Mifitlife Atc Mixed | Trevor Hodgson | Mixed | 59/63 | 08:29:37 | 2636 | 243/256 |
| 140 | Miway Mifitlife Atc Mixed | Kevin Mckinney | Mixed | 59/63 | 08:29:37 | 2637 | 243/256 |
| 141 | Miway Mifitlife Atc Mixed | Robyn Leigh Elford | Mixed | 59/63 | 08:29:38 | 2640 | 243/256 |
| 142 | Miway Mifitlife Atc Mixed | Peter Mcewan | Mixed | 59/63 | 08:29:38 | 2641 | 243/256 |
| 143 | Miway Mifitlife Atc Mixed | Leigh White | Mixed | 59/63 | 08:29:39 | 2642 | 243/256 |
| 144 | Miway Mifitlife Atc Mixed | Marius Tinney-Crook | Mixed | 59/63 | 08:29:39 | 2643 | 243/256 |
| 145 | Miway Mifitlife Atc Mixed | Kirsten Hopwood | Mixed | 59/63 | 08:29:39 | 2644 | 243/256 |